HDMI to DVI Cables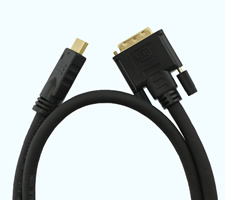 The HDMI standard and its older cousin, DVI, are very closely related to one another. Both use the same methods of video encoding, and send video information down the same sort of cable structure. The HDMI spec requires that HDMI devices be backward-compatible with the DVI standard, which in theory (though, unfortunately, not always in practice) means that whenever you have a device with a DVI connection on it, an HDMI to DVI cable will give you a funtioning connection.
As with all standard-compatibility questions, there are a few caveats.
First, HDMI is not compatible with DVI-A, the analogue DVI format, so it is not possible to hook up, for example, a VGA monitor to an HDMI source by using a combination of VGA/DVI and DVI/HDMI adapters and cables.
Second, the DVI standard does not support embedded audio, so whenever you're interconnecting DVI and HDMI equipment, you'll need to make sure that you've provided a separate path for the flow of the audio.
Third, any "new" HDMI features--deep colour, different colourspaces, et cetera--are unique to HDMI and will not be supported by a DVI connection (though the two devices should communicate just fine without them).
Fourth, although DVI has a "dual-link" version which is used to support higher resolutions, HDMI has no dual-link version available (yes, there's one in the spec, but there are no real-world devices that use it); accordingly, ALL DVI to HDMI cables are single-link only, even if the DVI plug on the cable carries the dual-link pins.
Fifth -- well, some DVI devices are just cranky and will not work properly when connected to some HDMI devices, largely because strict compliance with the DVI standard was not really carefully policed.
BJC Belden Bonded-Pair HDMI/DVI Cables:
HDMI and DVI have always had difficulties where reliability over distance is concerned, because of the difficulties of manufacturing twisted-pair cable to the fine tolerances required to handle the extraordinary bandwidth requirements of the HDMI signal. To overcome those difficulties, we sought the help of Belden, the world's technology leader in communications cable products, and we asked Belden to use its patented, exclusive Bonded-Pair technology to build us a cable for HDMI and DVI applications with extraordinary impedance stability and low skew. The result is a pair of products: the BJC Series-1 23.5 AWG Parallel Digital Video Cable, and the BJC Series-F2 28 AWG Cable. These are the only HDMI cables on the market incorporating bonded-pair technology; they are also, to our knowledge, the only DVI or HDMI cable stocks made in the United States, built in Monticello, Kentucky and Richmond, Indiana. (One note: at this time, we are having final assembly, i.e., connectorization of the cable, done under contract in China. We hope to bring final assembly home to the U.S. as well, but are working on production issues which have to be resolved before we can do that and still sell the cable at a reasonable, economical price.) Both versions are HDMI 1.3 certified, as detailed below.
BJC Belden Series-F2: a Triumph Over the Limits of Wire Gage
Series-F2 Facts:
HDMI 1.3a (CTS 1.3b1) certified;
CM rated (higher rating than CL2);
Unique Patented Bonded Pair Construction;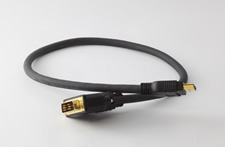 For short runs, our recommended cable is the BJC Series-F2, which replaces our prior Series-F cable. If you've read much about HDMI cable online, you know that most manufacturers use wire gage as their primary indicator of quality, because in the absence of any other measure of cable quality, it's assumed that larger-gage cable will perform better. The Series-F2 brings Belden's bonded-pair technology, with its low skew and tight impedance control, to a small-gage cable and significantly outperforms conventional twisted-pair designs. This cable, though made in 28 AWG and therefore quite thin and flexible, is certified under HDMI 1.3a (CTS 1.3b1), Category 2 (high-speed) to 15 feet, considerably longer than any other 28 AWG HDMI cable. While a larger cable of the same design (our Series-1, below) will outperform it in distance runs, when extreme distance is not required the Series-F2 will provide identical performance to the much heavier, stiffer, larger-gage cable, without the difficulty of bending and fitting that the larger cable can present. The Series-F2 is rated CM for in-wall installation (higher than the typical CL2 or CL3). View our full spec sheet for this product.
BJC Belden Series-1 Bonded-Pair Cable: Best for Long Runs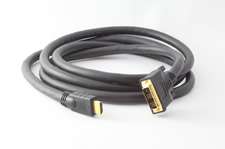 Series-1 Facts:
HDMI 1.3a (CTS 1.3b1) certified;
CM rated (higher rating than CL2);
Unique Patented Bonded Pair Construction;
For situations where distance is a factor, our best cable is our original Belden Series-1, a 23.5 AWG cable. The Series-1 is quite thick and stiff, which is a drawback in terms of installation convenience, but performs better over distance than anything else we have seen. It is certified under HDMI 1.3a (CTS 1.3b and b1) at the longest distances of any cable we know of--45 feet for Category 1, 25 feet for Category 2. In actual usage, it ordinarily will work at distances exceeding these--we have run 1080p video through a 125 foot cable without any information loss, but results will vary depending on the capabilities of the sending and receiving circuits of the devices in use. Like the Series-F2, this cable uses Belden's patented bonded-pair technology and the cable stock is manufactured at Belden facilities in Kentucky and Indiana.Read more details, or view specs, on our BJC Series-1 Bonded-Pair HDMI Cable.
Clearance Sale on old-stock Series-F HDMI to DVI Cables:
Currently we are offering discounted pricing on our original BJC Series-F 26 AWG cable, which uses a Belden non-bonded cable stock made in the USA (but with final assembly in China).
Our Economy Brand: Tartan HDMI to DVI Cables
Sometimes, the best value for the money is the best product you can find; but sometimes, it's the least expensive product you can find. For those more inclined to the latter than the former, we now offer Tartan brand HDMI cables. These come in two types: tin-plated-copper 24 AWG, CL2 rated cables, and high-flex, tin-plated-copper 28 AWG cables (not CL2). The cable stock comes from Copartner and from LTK, both leading Chinese manufacturers of HDMI and DVI cable. In the case of the 24 AWG Tartan HDMI to DVI cables, we may substitute our original BJC Series-2 cable--this is the same cable type and termination, except that the conductors are silver-plated instead of tinned for slightly better attenuation.
As with all of our products, we offer a simple and easy return policy. If for any reason you're not completely satisfied, just return the cables, undamaged, within 30 days and we'll refund your purchase price in full.
Tartan Cable 24 AWG HDMI to DVI Cables:
(Chinese-made, 24 AWG Tinned Copper, CL2 rated)
NOTE: In some cases BJC Series-2 Cable--same terminations but
silver-plated instead of tin-plated conductors--may be supplied instead.
Length
Price
Colour
Length
Price
Colour
3 foot
7 foot
4 foot
8 foot
5 foot
9 foot
6 foot
10 foot
BJC Series-1 Belden Bonded-Pair HDMI to DVI Cables:
Our best cable for distance runs.
Length
Price
Colour
Length
Price
Colour
3 foot
7 foot
4 foot
8 foot
5 foot
9 foot
6 foot
10 foot
HDMI Adapters:
Description
Price
Female DVI to Male HDMI Adapter
Female HDMI to Male DVI Adapter
Female HDMI to Female HDMI Coupler
HDMI Female to "Type C" (mini) HDMI Male Adapter
HDMI Right-Angle Adapter
(turning TOWARDS broadest side of socket)
HDMI Right-Angle Adapter
(turning AWAY FROM broadest side of socket)
BJC Series-F2 "Portsaver" (1 foot, male/female cable)
Other HDMI Hardware and Cables:
Description
Price
HDMI Booster/EQ Unit
(for extending distance; has female in, female out jacks, external power supply)
HDMI Wallplate--1 port, coupler style
(in-wall side is at right-angle to faceplate)
HDMI Wallplate--1 port, pigtail style
(in-wall portion is a short flexible cable w/female connector)
HDMI Wallplate--2 port, pigtail style
(in-wall portions are short flexible cables w/female connectors)
Temp. out of stock
HDMI Type A (standard) to HDMI Type C (mini) cable, 6 foot
HDMI Switch, 5 in/1 out, w/power supply and remote, 1.3 compliant